About Quality Matters
Quality Matters (QM) began as a consortium of higher ed institutions, mostly community colleges, in Maryland called MarylandOnline. Certificates and degrees were offered online, and courses were shared through a program not unlike the Internet Course Exchange (ICE). However, uncertainty about the quality of peer institutions was an immediate obstacle, ultimately overcome through the creation of common design standards funded by a FIPSE grant in 2003.
Quality Matters is focused on course design rather than course delivery or performance and features:
A set of standards for online/blended course design
A faculty-centered peer review process for courses with an online component
A tool for instructional designers to work with faculty
A professional development opportunity for faculty and staff
Today, many states have their own QM consortium; the Ohio Quality Matters Consortium has even innovated a bartering system for course reviews.
Quality Matters Rubric
The Quality Matters rubric is supported by current research literature. It is reviewed and updated every 2-3 years. "The rubric for the rubric" has been part of the process since the beginning. The underlying principles about continuous improvement are not limited to courses being reviewed; it also has a significant impact on faculty development as well.
The QM Higher Ed Rubric is focused on holistic course design and the use of technology to support quality instruction and promote student learning. Currently, the rubric is in its 6th edition (2018), and consists of eight key areas. While it might appear like a checklist, the rubric has an intrinsic connection between Specific Review Standards called Alignment that individuals unfamiliar with QM often overlook. This basic internal structure ensures critical course components work together to build effective online course.
Peer Review Types
When a course is up for review, instructors can choose from two course review options: Waubonsee Review (Internal) and Quality Matters Review (External).
Both Waubonsee Reviews and QM Reviews use the QM rubric except that Waubonsee Reviews acknowledge QM certification criteria (e.g. ≥85 points) as guidance for continuous course quality improvement only. Unless an instructor requests otherwise, a Waubonsee Review is the default option.
Waubonsee Review
The main purpose of an internal review is for continuous improvement. Its focus should be on individual Specific Review Standards (SRSs); based on the reviewers' comments, reviewees are encouraged to see which areas among the 42 SRSs could be improved.
Who have access to the review feedback/data?
Other than Waubonsee QM Coordinators/Review Managers, who manage the reviews, only reviewees have access to the review feedback provided by reviewers. Reviews are for reviewees' reference only; it is not available for anyone else or used for other purposes.
What happens if a course doesn't meet expectations?
Internal Reviews are for reflection and continuous improvement. While all instructors are encouraged to get their courses QM‑certified, meeting QM criteria is not a requirement for delivering online.
Quality Matters Review
Courses seeking QM certification need to meet three different criteria: Courses need to have Module Level Outcomes or Objectives (MLOs) (SRS 2.2) to quality for official QM review/certification. MLOs are a component of Alignment, which is a concept unique to the QM rubric. Courses need to have been created with well‑applied Course Level Outcomes (CLOs) (SRS 2.1). For more information about aligning outcomes, you are strongly encouraged to register for the Intro2QM workshop. Finally, courses need to meet all essentials SRSs and total at least 85 points on the rubric.
Whether a Waubonsee or QM review is chosen by an instructor, developing Module Level Outcomes is highly encouraged as they will help reveal the alignment between Course Level Outcomes with content and activities.
Comparison
Quality Matters Review
Waubonsee Review

This option can result in a QM certification mark if the course meets the expectations of these 3 criteria:

Alignment
All 23 essential SRSs
85 total points or higher

This option may also be chosen if you feel uncomfortable having Waubonsee colleagues review your course. MLOs are required to complete the QM review and they must match the CLOs.

This option follows the same process as the internal reviews spanning 2017-2020, updated to use the QM rubric. It does not qualify a course for a QM certification mark.

The comments provided by reviewers are housed on the QM website. The review is only for reviewee reference to consider what could be improved in the course and is not used for other purposes.

After a course is reviewed internally, you can still request a QM review if you are seeking certification.
Review Process
Quality Matters is a faculty-driven, peer review process that is:
Collaborative
Collegial
Continuous
Centered
QM offers the structure for faculty to provide peer-to-peer feedback that is useful and actionable in the continuous improvement of online courses.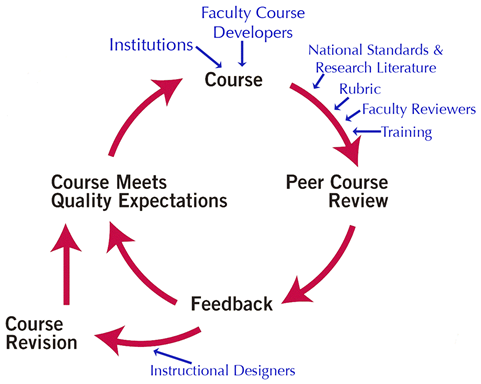 The peer reviews are designed to be a formative assessment for course improvement. They are about the course quality, not about individual instructors or faculty evaluation. Unsurprisingly, many peer reviewers are Faculty Advisors from major publishers. The process is intended to be diagnostic and collegial in a supportive environment, not evaluative and judgmental.
A QM Certified course is one that meets the expectations of the shared standards. Statistically, 61% of QM-managed course reviews meet standards upon their initial review, with most meeting after minor amendments. A QM course certification is valid for five years, unless substantial changes (>20% on a component) are made after the course is certified. Recertification can extend validity for an additional three years before another review cycle takes place.
Applying the QM Rubric
Course reviews rely on a community of collegial and collaborative coordinators, facilitators, and peer reviewers.
Peer reviews are the most common way to be involved with QM. Reviewers are typically compensated for completing each review. Reviewing online courses (often from other colleges and universities) allows you to gain insight into your own practice and walk away with new ideas. Participating in peer reviews is a low-stakes activity that leads to continuous improvement.
Peer reviews are a safe space for sharing resources and leading by example. They promote a self-reflective cycle of growth. To understand what the review process entails, you are encouraged to attend the Applying the QM Rubric (APPQMR) workshop (please see the registration instructions below), which is the pre-requisite for the Peer Reviewer Course (PRC) that is required to become an official QM Peer Reviewer.
Even if you do not plan to become an official QM reviewer, APPQMR provides the foundational concepts of Specific Review Standards (SRSs) that are grounded in the research literature and best practice. The implementation of any SRS directly helps improve student learning. QM also has a variety of workshops that focus on different areas beyond the QM rubric. Your courses may already meet the expectations to be QM-certified!
Introduction to Quality Matters (INTRO2QM) Online - Registration Instructions
Applying the QM Rubric (APPQMR) Online - Registration Instructions
Timeline
Spring 2021
Fall 2021

Begin training Waubonsee Peer Reviewers

Spring 2022

Waubonsee Peer Review Process begins.

Fall 2022

Waubonsee Peer Review Process continues.

Spring 2023

Waubonsee Peer Review Process continues.

Fall 2023

Waubonsee Peer Review Process continues.
♻ Cycle continues until all eligible course shells have been reviewed.
Frequently Asked Questions