About Kaltura Personal Capture
Kaltura Personal Capture is software used to easily record video presentations. It works with existing hardware usually consisting of a video camera and microphone. On Waubonsee desktops, the Kaltura Personal Capture program is synced with individual logins. Kaltura mymedia also houses all of the college's video media which is embedded everywhere from mywcc to the Canvas learning management system.
Installing Kaltura Personal Capture
If Kaltura Personal Capture is not already installed, or if you are installing Kaltura Personal Capture on a personal device, the following steps will guide you through the installation. Once the program has been correctly installed, you may repeatedly use Kaltura Personal Capture.
Step 1 - Login to Waubonsee Kaltura MyMedia
Step 2 - Download Kaltura Personal Capture
Step 3 - Installation of Kalture Personal Capture
Step 4 - Launch Kaltura Personal Capture
Kaltura Personal Capture - Before Recording
Kaltura Personal Capture - Recording
Recording a Screen (Presentation)
How to Record and Upload Video
MyMedia / Kaltura Repository
MyMedia is a streaming platform, where you can share your videos with others.
Embed Your Video on Canvas
Share Your Kaltura Video Using the Embed Code
How to view Kaltura video analytics
Closed Captions
All media uploaded to Kaltura is automatically closed captioned. Mechanical captions are approximately 70 - 80% accurate. Please check your captions for misspellings or other errors. Captions can be directly edited from mymedia.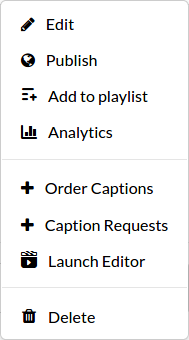 To edit captions, navigate to your video and click on the 'ACTIONS > +Caption Requests' option in mymedia. Existing captions may be edited by pressing the 'Edit' button.

Professional hand captioning may be requested for videos in mymedia by changing the 'Fidelity' option to 'Professional (99%+)'. Please reserve this service for situations where captions cannot be manually updated/edited or is directly tied to an accommodation.