What is Retention?
A retention rate answers the question, "Who's coming back?" It is calculated as the percentage of the headcount of students who re-registered for the second academic period divided by the headcount of the same students who registered in the first academic period. This is displayed as "Fall-to-Fall Retention" in our institutional reporting.
A "cohort" of students includes full- and part-time first-time degree and certificate students enrolled at the institution in the fall semester of the base year.
Why Should I Care about Retention?
Each year, about one-half of Waubonsee's degree-seeking students do not return (are not retained) the following Fall. For students, this means they have either dropped out, graduated, or transferred, choosing not to continue at Waubonsee. There are many reasons students may choose to not return, including relocation, career or life plan changes, finances, and personal responsibilities. While there are many efforts to address this issue at the college level, faculty, and staff play an important role in supporting retention and completion efforts. As we connect with students on a regular basis, we have the opportunity to see their strengths and challenges to inform efforts to support our students in reaching their academic goals.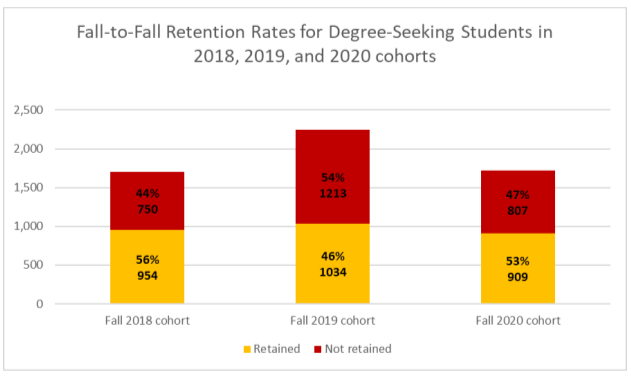 Adapted from MSU Denver's Student Retention Guide (2022) 
Looking at Our Institutional Data
It's important to not only understand what retention is, but know how it relates to your own programs, departments, and the college. To help you make better-informed decisions when it comes to retention, consider investigating the data and information that's available to you:
The Waubonsee College Scorecard was created to provide our community with a snapshot of how we, as a college, are performing in the key areas of finance, enrollment, and student satisfaction.
Student achievement data is displayed by declared degree type, including enrollment, retention, and completion rates by declared degree type.
Other reports are found on the Institutional Reports page of the college website.
Sense of Belonging, Leadership, and Community
Two higher education theorists are often cited for their research related to the need for fostering a sense of belonging, creating community, and encouraging leadership are Alexander Astin and Vincent Tinto.
Astin's theory of involvement suggests that students who build a connection to their college through involvement in student organizations, research and applied learning, identity-based programming, and connections to faculty, staff, and peers are more likely to be retained.
Similarly, Tinto's work on student departure suggests that social involvements and integration are significant factors in retention. Students who are connected to faculty, staff, and peers, and are involved in extracurriculars are engaged in the campus community and therefore, are more likely to be retained.
Below you'll find examples of strategies and services to help students find their sense of belonging, leadership opportunities, and community connections.
Faculty Play a Large Role in Impacting Student Retention, Persistence, and Completion
The heart of student success is their experience in their classroom with their faculty member and classmates, regardless of whether that space is physical or virtual, synchronous or asynchronous. Quality teaching optimizes the shared teaching and learning experience by providing both the faculty and students with the knowledge, tools, skills, and mindset to holistically prepare students to work and lead in a global environment.
Faculty who practice quality teaching inspire intellectual curiosity and give each student voice in the learning community. Built upon respect for self and others, these gifted faculty create brave spaces for shared teaching and learning where each person feels heard, valued, and has a sense of belonging. This combination of purpose, contribution, and belonging enhances the students' capacity for learning and success.
Quality teaching, through connection, community, and learning in the classroom, is the cornerstone of equitable outcomes and holistic faculty and student success!
Quality teaching not only creates an inclusive, interdisciplinary space for acquiring discipline-related knowledge and skills, but rather holistically develops the student through intentional instruction and modeling of human skills -- empathy, relationship building, negotiation, consensus building, communication, working with diverse teams, critical thinking, and creative, real-world problem solving. Therefore, quality teaching directly contributes to the development of the whole student and prepares them to lead and serve as well-educated, compassionate, equity-minded global citizens.
Additional Examples of High-Impact Practices for Student retention Include:
Waubonsee Programs and Initiatives that Support Student Success and Retentio
All new Waubonsee students receive an email with information about accessing their college email as well as a New Student Survival Guide that links to helpful resources. Our Waubonsee 101 online workshop is another great introduction to the resources available to support students. The Things to Know weekly publication, found on the main page of mywcc, is a great resource to stay updated on current information.